At Michael Antony we are proud to deliver an award winning service that effortlessly combines traditional values with up-to-the minute technology delivering the outstanding for you. Please view our Testimonial Video to hear what our clients have to say.
When selling your home
When marketing your home through Michael Antony, we will set up your very own exclusive property website which provides far more information than a simple set of details. Market research shows a 48% increase in property views when using video content* (*SOURCE: IAB UK)
• A photo slideshow of all the property images – viewable in large format
• Floorplans
• Location map
• Local schools map – with click-through to OFSTED reports
• The whole site can be shared via social media or email
• You can share the site with your friends and family, whilst we can send it to potential buyers instead of basic details
EXTENSIVE ONLINE MARKETING
As well as advertising your property on the leading Property Portals, Rightmove, Zoopla and Prime Location, you will also find us on many other portals including: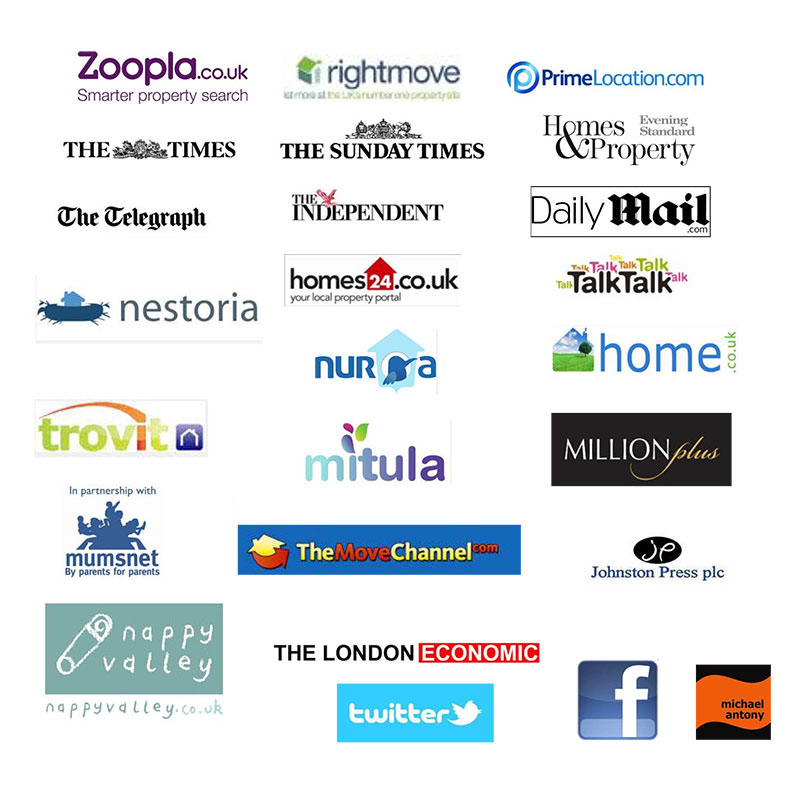 STATE OF THE ART SOFTWARE
We have invested heavily in the latest Estate Agent Software – a key component in creating our extensive database and in matching your property to the best buyers. This allows us to streamline data and by SMS messaging and Email ensures that you are kept in touch with progress. The software will also collate activity and produce regular update records for you.
PROFESSIONAL PHOTOGRAPHY
W"First impressions count" Great photos are key to making your property stand out from the crowd and grab that immediate interest. They should be bright, distinctive and clear. Michael Antony pride themselves in presenting every property, from 1 bed apartment – to 6 bedroom executive home, with the same care and emphasis on excellent images..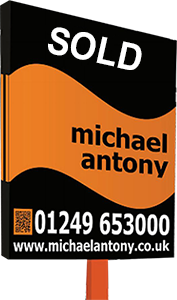 AGENCY BOARDS THAT WORK
Our property board have been designed to be bold and unmissable. Each is printed with a QR Code linking the property to our website so that your potential buyer can access details "on the spot" and contact us to arrange a viewing or for more information. A modern twist on this proven traditional way of marketing.
LOCAL MARKET KNOWLEDGE
Our staff are all local and our experience within the property market enables us to utilise our system of comparable property transactions. We have been Selling and Letting properties within the area since 2003 and have built up a strong client base, together with an extensive database of buyers. We get to know our buyers well and what they are looking for in a property – a key factor in achieving the very best for your sale.
TESTIMONIALS
"Thank you all for your kind gift - totally unexpected but much appreciated. Our daughter commented - "I must make a note of this Estate Agent" - a very pleasant surprise"
Mrs B
"To all at Michael Antony. A gift to thank you for excellent customer service with a personal touch - thank you so much."
Mrs S
"Thank you for all your hard work and effort you put into selling our house. It was really appreciated. We wish you all the best of the future."
Mr and Mrs P
"I would like to thank you very much for agreeing to jointly market our property. Also for the very comprehensive and informative details you prepared for prospective buyers. We thought they were excellent and the photographs of the rooms as well as the exterior made them, in our opinion, exceptional. To be honest, when we saw them last night we both felt regret that we had not approached you in the first place!"
Mr and Mrs S
"Now that Contracts have been exchanged on my purchase, I wish to thank you for all your hard work in selling the property. I think that it is fair to say that this property has proved to be a difficult house to sell, but I am confident that no one else could, or would, have put more effort into it than you have. I really do appreciate the many viewings which were necessary to secure a buyer and more recently the dozens of phone calls to "chase up" the purchasers and their solicitors. I do hope that we can do business again in the future and hopefully next time it will be easier for you. Thank you once again."
Mr and Mrs T
"I wanted to say thank you very much for the wine that you gave us as a "thank you" present even though I bought rather than sold through you. Your token of appreciation was very much appreciated. Sadly it's a shame I didn't know so much about Michael Antony when I put my house up for sale otherwise I would of seriously considered asking you to do it for me. You are actually the only company whom I have written to in order to say thank you for your services etc. I wouldn't hesitate once about using you. I liked the way in which every single aspect (from initial contact to completion) that all your staff conducted themselves. Thank you for all you did."
Mr F
"A brief note to thank you for your services in the sale of our property - and also to your staff - always a pleasant reception from them despite how I behaved!. Without doubt, Michael Antony has my commendation."
Mr P
" I am writing to thank you all for the help and advice you have given me throughout recent weeks in handling our property sale, it has been a pleasure doing business with you. I was impressed by what I feel was a sensible valuation, taking into account the work needed to up-date the property and it was so good that the asking price was achieved within four days!
As promised, you followed up progress on both sides and kept me fully informed of developments as they occurred. It was a new experience for me and somewhat daunting being responsible for selling on behalf of my mother. I appreciate the fact that I could come to you and discuss any concerns I had. My abiding memory will be of an office run efficiently and also the friendly atmosphere. I have had no hesitation in recommending Michael Antony Estate Agents on several occassions and am happy to continue doing so."
Mrs A